INCLUSIVE EDUCATION EFFORTS FOR CHILD REFUGEES IN INDONESIA WITHIN MULTI-STAKEHOLDER PARTNERSHIP (MSPS) FRAMEWORK
Sri Suwartiningsih

Universitas Kristen Satya Wacana
Keywords:
child refugees, inclusive education, Multi-Stakeholder Partnership, cross-sector collaboration
Abstract
This research aims to explain various inclusive education efforts for child refugees in Indonesia within Multi-Stakeholder Partnerships (MSPs) framework involving the government, international organizations, non-governmental organizations, and academic sector. By using qualitative research methods and neoliberalism theory, the results show that there are various MSPs collaborations to implement inclusive education for child refugees in Indonesia. These collaborations include collaboration between UNHCR Indonesia, Dompet Dhuafa, Human Initiative, and PKBM schools to provide preparatory classes before entering national schools, collaboration between UNHCR and universities, as well as collaboration between IOM Indonesia and the government through the Rudenim to provide home-schooling for refugees. It concluded that inclusive education efforts for child refugees in Indonesia have been carried out quite well by several actors, but this commitment must continue to be improved by increasing national regulations related to the refugee education and providing legal certificates for refugees who have completed their education
child refugees; inclusive education, Multi-Stakeholder Partnership; cross-sector collaboration.
Downloads
Download data is not yet available.
References
ALLFIE UK. (n.d.). What is inclusive education? ALLFIE (the Alliance for Inclusive Education). Allfie. Retrieved March 22, 2022, from https://www.allfie.org.uk/definitions/what-is-inclusive-education/
Asti, N. R., & Rahayu, S. L. (2019). PEMENUHAN HAK PENDIDIKAN ANAK BAGI PENCARI SUAKA YANG TRANSIT DI INDONESIA SEMBARI MENUNGGU STATUS PENGUNGSI. 5(1), 8.
Aurelia, J. (2022). Bagi Pemerintah, Hak Pendidikan Pengungsi Anak Tak Jadi Prioritas. tirto.id. https://tirto.id/bagi-pemerintah-hak-pendidikan-pengungsi-anak-tak-jadi-prioritas-gnuj
Dahiya, B., & Okitasari, M. (2018). Partnering for Sustainable Development Guidelines for Multi-stakeholder Partnerships to Implement the 2030 Agenda in Asia and the Pacific. United Nations University Institute for the Advanced Study of Sustainability. http://collections.unu.edu/view/UNU:6459#viewMetadata
Dompet Dhuafa. (2020, November 11). Dompet Dhuafa Bangun Kerjasama Strategis Bersama UNHCR Untuk Pengungsi Global—Dompet Dhuafa. https://www.dompetdhuafa.org/dompet-dhuafa-bangun-kerjasama-strategis-bersama-unhcr-untuk-pengungsi-global/
Dugis. (2016). (PDF) Teori Hubungan Internasional; Perspektif-Perspektif Klasik. https://www.researchgate.net/publication/321709080_Teori_Hubungan_Internasional_Perspektif-Perspektif_Klasik
Gramedia. (2021, May 3). Teknik Pengumpulan Data Dalam Suatu Rancangan Penelitian. https://www.gramedia.com/literasi/teknik-pengumpulan-data/
Jakarta Globe. (2018). The Plight of Refugees in Indonesia. Jakarta Globe. https://jakartaglobe.id/news/plight-refugees-indonesia
Jakarta Smart City. (2016). Pusat Kegiatan Belajar Masyarakat di Rumah Susun | Blog | Portal Jakarta Smart City. https://smartcity.jakarta.go.id/blog/132/pusat-kegiatan-belajar-masyarakat-di-rumah-susun
Janmyr, M. (2021). The 1951 Refugee Convention and Non-Signatory States: Charting a Research Agenda. International Journal of Refugee Law, 33(2), 188–213. https://doi.org/10.1093/ijrl/eeab043
MacDonald, A., Clarke, A., & Huang, L. (2019). Multi-stakeholder Partnerships for Sustainability: Designing Decision-Making Processes for Partnership Capacity. Journal of Business Ethics, 160(2), 409–426. https://doi.org/10.1007/s10551-018-3885-3
Mansur, H. (2019). Pendidikan Inklusif: Mewujudkan Pendidikan Untuk Semua. Parama Publishing. https://repo-dosen.ulm.ac.id//handle/123456789/18921
McCusker, K., & Gunaydin, S. (2015). Research using qualitative, quantitative or mixed methods and choice based on the research. Perfusion, 30(7), 537–542. https://doi.org/10.1177/0267659114559116
NgertiHukum.ID. (2021, August 24). Menilik Substansi PP No 78 Tahun 2021 tentang Perlindungan Khusus Bagi Anak. NgertiHukum.ID. https://ngertihukum.id/menilik-substansi-pp-no-78-tahun-2021-tentang-perlindungan-khusus-bagi-anak/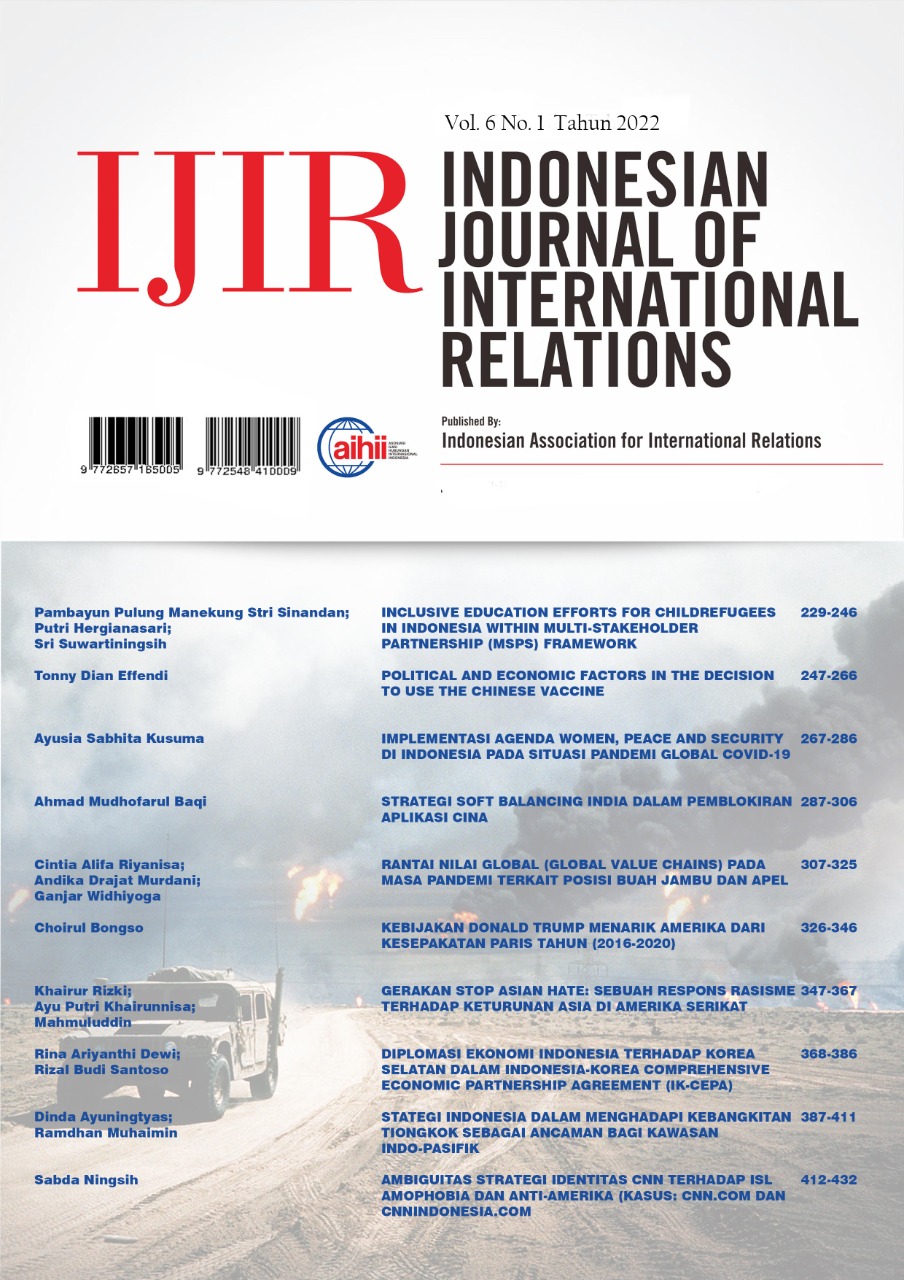 How to Cite
Suwartiningsih, S. (2022). INCLUSIVE EDUCATION EFFORTS FOR CHILD REFUGEES IN INDONESIA WITHIN MULTI-STAKEHOLDER PARTNERSHIP (MSPS) FRAMEWORK. Indonesian Journal of International Relations, 6(2), 229-246. https://doi.org/10.32787/ijir.v6i2.359
Copyright (c) 2022 Indonesian Journal of International Relations
This work is licensed under a Creative Commons Attribution-NonCommercial 4.0 International License.