THE ESTABLISHMENT OF PERMANENT STRUCTURED COOPERATION (PESCO) BY THE EUROPEAN UNION TO INCREASE INTEGRATION AND INDEPENDENCE EUROPEAN REGIONAL MILITARY COOPERATION
Hardi Alunaza

Fakultas Ilmu Sosial dan Ilmu Politik Universitas Tanjungpura

Bastian Andhony Toy

Fakultas Ilmu Sosial dan Ilmu Politik Universitas Tanjungpura
Keywords:
Integration, Security, Defense, PESCO, European Union.
Abstract
This paper aims to discuss the efforts of the European Union in enhancing integration and defense-security cooperation through the establishment of Permanent Structured Cooperation. This paper seeks to answer how the formation of PESCO can increase the integration and independence of military cooperation between EU member states. Whereas before there has been a North Atlantic Treaty Organization as a security pillar that has long been recognized in the European region. The author uses the theory of regional security complex and the concept of collective security in analyzing related phenomena. This research uses descriptive method with qualitative approach. The data collection technique is literature study consisting of books, journals, and including data from reliable websites to support the explanation of this paper. The results of this research indicate the establishment of PESCO as a form of implementation of Article 42 paragraph 6 of the Lisbon Treaty in 2009 concerning the efforts of member countries in establishing defense-security cooperation within the European Union framework. The establishment of the PESCO was also based on doubts by the European Union on the role of the US in NATO, but PESCO did not directly replace NATO but rather as a complement to autonomous and effective crisis resolution.
Downloads
Download data is not yet available.
References
Amaritasari, I. (2015). Keamanan Nasional dalam Konsep dan Standar Internasional. Jurnal Keamanan Nasional, 1(2), 153–174. https://doi.org/10.31599/jkn.v1i2.21
Aydın-Düzgit, S., & Marrone, A. (2018). PESCO and Security Cooperation Between the EU and Turkey. http://www.iai.it/en/node/8508.
Biscop, S. (2018). European defence: Give PESCO a chance. Survival, 60(3), 161–180. https://doi.org/10.1080/00396338.2018.1470771
Damarjati, D. (2018). Mulai Berani ke AS, Paris-Berlin Kukuh di Pakta Pertahanan Uni Eropa. https://news.detik.com/internasional/d-3871297/mulai-berani-ke-as-paris-berlin-kukuh-di-pakta-pertahanan-uni-eropa
DW (Deutsche Welle). (2017). PESCO: EU army one step closer after defense pact agreement. https://www.dw.com/en/pesco-eu-army-one-step-closer-after-defense-pact-agreement/a-41741828
European Defence Agency. (2018). Permanent Structured Cooperation (PESCO). https://www.eda.europa.eu/what-we-do/our-current-priorities/permanent-structured-cooperation-(PESCO)
European Parliament. (2018). DRAFT REPORT on annual report on the implementation of the Common Security and Defence Policy.
European Union External Action (EEAS). (2018). Permanent Structured Cooperation. https://eeas.europa.eu/headquarters/headquarters-Homepage/34226/permanent-structured-cooperation-pesco-factsheet_en
Irwan, M. N. S. B. (2017). Transformasi Kebijakan NATO (North Atlantic Treaty Organization) Dalam Penanganan Ancaman Non-tradisional (Studi Kasus: The 2010 New Strategic Concept). Universitas Hasanuddin.
Nurdiana, N. A. (2019). Peran Politik Keamanan Rusia di Kawasan Asia. EJournal Ilmu Hubungan Internasional, 7(1), 153–166. www.international.sindonews.com/read/1053624/40/rusia-ancang-ancang-
Parliament.uk. (2018). EU Defence: the realisation of Permanent Structured Cooperation (PESCO).
Raco, J. R. (2010). Metode Penelitian Kualitatif - Jenis, Karakteristik, dan Keunggulannya. Jakarta: PT. Gramedia Widiasarana Indonesia.
Somek, A. (2007). Kelsen Lives. European Journal of International Law, 18(3), 409–451. https://doi.org/10.1093/ejil/chm028
Sugiyono. (2010). Memahami Penelitian Kualitatif. Bandung: Alfabeta.
Ulusoy, H. (2003). Possible Transformation of Collective Security Arrangements in the Post-September 11 Era. http://turkishpolicy.com/article/36/possible-transformations-of-collective-security-arrangements-in-the-post-september-11-era-spring-2003
VOA Indonesia. (2017). Trump Terus Kecam Anggota NATO karena Sumbangan yang Tak Memadai. https://www.voaindonesia.com/a/trump-terus-kecam-anggota-nato-karena-sumbangan-yang-tak-memadai/4476289.html
Yakti, P. D. (2016). Kebutuhan Uni Eropa Terhadap Institusi Keamanan : Peranan NATO di Era Kontemporer. Jurnal Hubungan Internasional, 1, 81–98.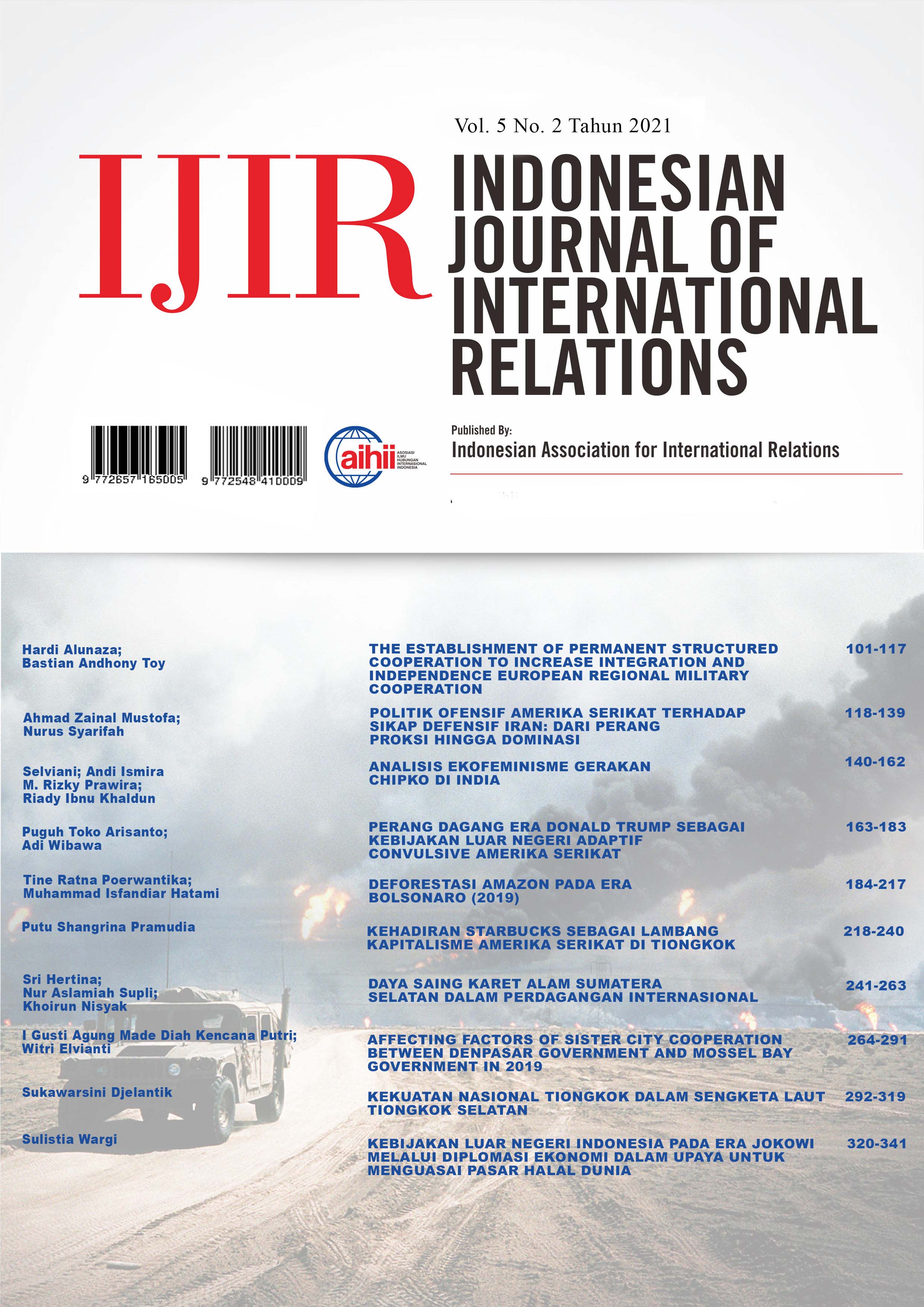 How to Cite
Alunaza, H., & Andhony Toy, B. (2021). THE ESTABLISHMENT OF PERMANENT STRUCTURED COOPERATION (PESCO) BY THE EUROPEAN UNION TO INCREASE INTEGRATION AND INDEPENDENCE EUROPEAN REGIONAL MILITARY COOPERATION. Indonesian Journal of International Relations, 5(2), 101-117. https://doi.org/10.32787/ijir.v5i2.193
Copyright (c) 2021 Indonesian Journal of International Relations
This work is licensed under a Creative Commons Attribution-NonCommercial 4.0 International License.