ANALISIS EKOFEMINISME GERAKAN CHIPKO DI INDIA
riady

Universitas Sulawesi Barat
Keywords:
Ekofeminisme, Gerakan Chipko, Gerakan Sosial Baru, India
Abstract
Penelitian ini bertujuan untuk menganalisis Ekofeminisme Gerakan Chipko di India ntuk mengetahui kontribusi ekofeminisme terhadap gerakan Chipko di India serta mengetahui pengaruh gerakan Chipko dalam upaya perlindungan dan advokasi ekologi di India pasca 1995. Dua fenomena yang kemudian dirangkai dalam satu konsep ekofeminisme yang melahirkan gerakan Chipko di India. Gerakan Chipko kemudian menjadi menarik karena menjadi gerakan Ekofeminisme di negara dengan sistem patriarki yang mengakar dalam masyarakat. Adapun konsep yang digunakan adalah Ekofeminisme dan Gerakan Sosial  Baru (GSB). Kontribusi dari ekofeminisme terhadap gerakan Chipko kemudian dapat diukur dari partisipasi perempuan sebagai pelopor dan relawan gerakan Chipko. Dalam sistem patriarki India, branding gerakan Chipko sebagai gerakan ekofeminisme berpengaruh pada partisipasi perempuan dalam gerakan tersebut. Parameter kedua adalah konsistensi isu perempuan disuarakan dalam kampanye dan pidato. Narasi-narasi ekofeminisme disampaikan melalui kampanye ataupun pidato tokoh gerakan Chipko di berbagai forum. Kontribusi gerakan Chipko terhadap advokasi dan ekologi di India kemudian cukup besar karena mampu mempengaruhi ranah kebijakan otoritas di India.
Downloads
Download data is not yet available.
References
Aune, J. A. (2019). Marxism After Marx. In Rhetoric and Marxism. https://doi.org/10.4324/9780429304774-3
Brown, T. (2014). Chipko Legacies: Sustaining an Ecological Ethic in the Context of Agrarian Change. Asian Studies Review. https://doi.org/10.1080/10357823.2014.956686
Buechler, S. M. (1995). New Social Movement Theories. Sociological Quarterly. https://doi.org/10.1111/j.1533-8525.1995.tb00447.x
Coric, D. (2014). Ecofeminism as a way of resolving some environmental issues. Zbornik Matice Srpske Za Drustvene Nauke. https://doi.org/10.2298/zmsdn1448551c
Crowley, T. (2013). Climbing mountains, hugging trees: A cross-cultural examination of love for nature. Emotion, Space and Society. https://doi.org/10.1016/j.emospa.2011.10.005
Gandotra, N., & Agrawal, S. (2021). Sustainability, civilization and women - An environmental study of the overstory by Richard powers. Rupkatha Journal on Interdisciplinary Studies in Humanities. https://doi.org/10.21659/RUPKATHA.V12N5.RIOC1S10N6
Gooch, P. (1999). A Community Management Plan:The Van Gujjars and the Rajiji National Park. In State, Sociey and the Environment in South Asia.
Gruzalski, B. (2002). Gandhi's contributions to environmental thought and action. In Environmental Ethics. https://doi.org/10.5840/enviroethics200224313
Kemmerer, L. (2001). Ecofeminist Philosophy. The Philosophers' Magazine. https://doi.org/10.5840/tpm20011673
Khaeroni, C., & Halidin, A. (2018). Pendidikan Islam Inklusif Gender (Studi Kritis Ekofeminisme Vandana Shiva). Al-MAIYYAH : Media Transformasi Gender Dalam Paradigma Sosial Keagamaan. https://doi.org/10.35905/almaiyyah.v11i2.657
Kumar, R. (2019). From Chipko to Sati: The Contemporary Indian Women's Movement. In The Challenge Of Local Feminisms. https://doi.org/10.4324/9780429492921-3
Mago, P., & Gunwal, I. (2020). Role of Women in Environment Conservation. SSRN Electronic Journal. https://doi.org/10.2139/ssrn.3581051
Maulana, R., & Supriatna, N. (2019). Ekofeminisme: Perempuan, Alam, Perlawanan atas Kuasa Patriarki dan Pembangunan Dunia (Wangari Maathai dan Green Belt Movement 1990-2004). FACTUM: Jurnal Sejarah Dan Pendidikan Sejarah. https://doi.org/10.17509/factum.v8i2.22156
Mikhel, I. (2020). Chipko: Breaking An Environmental Movement In India. Vostokovedenie i Afrikanistika. https://doi.org/10.31249/rva/2020.03.01
Mohan Ram, H. Y., & Kapoor, M. (2012). Commemoration of Committed Endeavours. Proceedings of the National Academy of Sciences, India Section B: Biological Sciences. https://doi.org/10.1007/s40011-012-0110-5
Moore, N. (2011). Eco/feminism and rewriting the ending of feminism: From the chipko movement to clayoquot sound. Feminist Theory. https://doi.org/10.1177/1464700110390592
Morador, F. F., & Vásquez, J. C. (2016). New social movements, the use of ICTs, and their social impact. Revista Latina de Comunicacion Social. https://doi.org/10.4185/RLCS-2016-1101en
Prasisko, Y. G. (2016). Gerakan Sosial Baru Indonesia: Reformasi 1998 dan Proses Demokratisasi Indonesia. Jurnal Pemikiran Sosiologi. https://doi.org/10.22146/jps.v3i2.23532
Pratiwi, D. A. (2013). Isu Global Warming dan Sikap Dunia Internasional. Jurnal Dimensi Universitas Riau Kepulauan.
Priyatna, A., Subekti, M., & Rachman, I. (2017). Ekofeminisme Dan Gerakan Perempuan di Bandung. Patanjala : Jurnal Penelitian Sejarah Dan Budaya. https://doi.org/10.30959/patanjala.v9i3.5
Puspita, D. (2017). Gerakan Perempuan Melawan Korporasi Tambang. Universitas Airlangga.
Sen, S. (2020). Gender, Environment And Sustainability: The Journey From 'Silent Spring' To 'Staying Alive.' International Journal of Advancement in Life Sciences Research. https://doi.org/10.31632/ijalsr.20.v03i02.002
Sharnappa, P. S. (2016). Reconstructing ecofeminism: A study of Kamala Markandaya's nectar in a sieve. Cogent Social Sciences. https://doi.org/10.1080/23311886.2016.1243772
Singh, M., & Mishra, K. D. (2019). Eco-feminism and folk media: A case study of the chipko movement. International Journal of Scientific and Technology Research.
Suliantoro, B. (2011). Rekonstruksi pemikiran etika lingkungan ekofeminisme sebagai fondasi pengelolaan hutan lestari. Bumi Lestari.
Young, R. J. C. (2020). 10. Ecology and indigeneity. In Postcolonialism: A Very Short Introduction. https://doi.org/10.1093/actrade/9780198856832.003.0011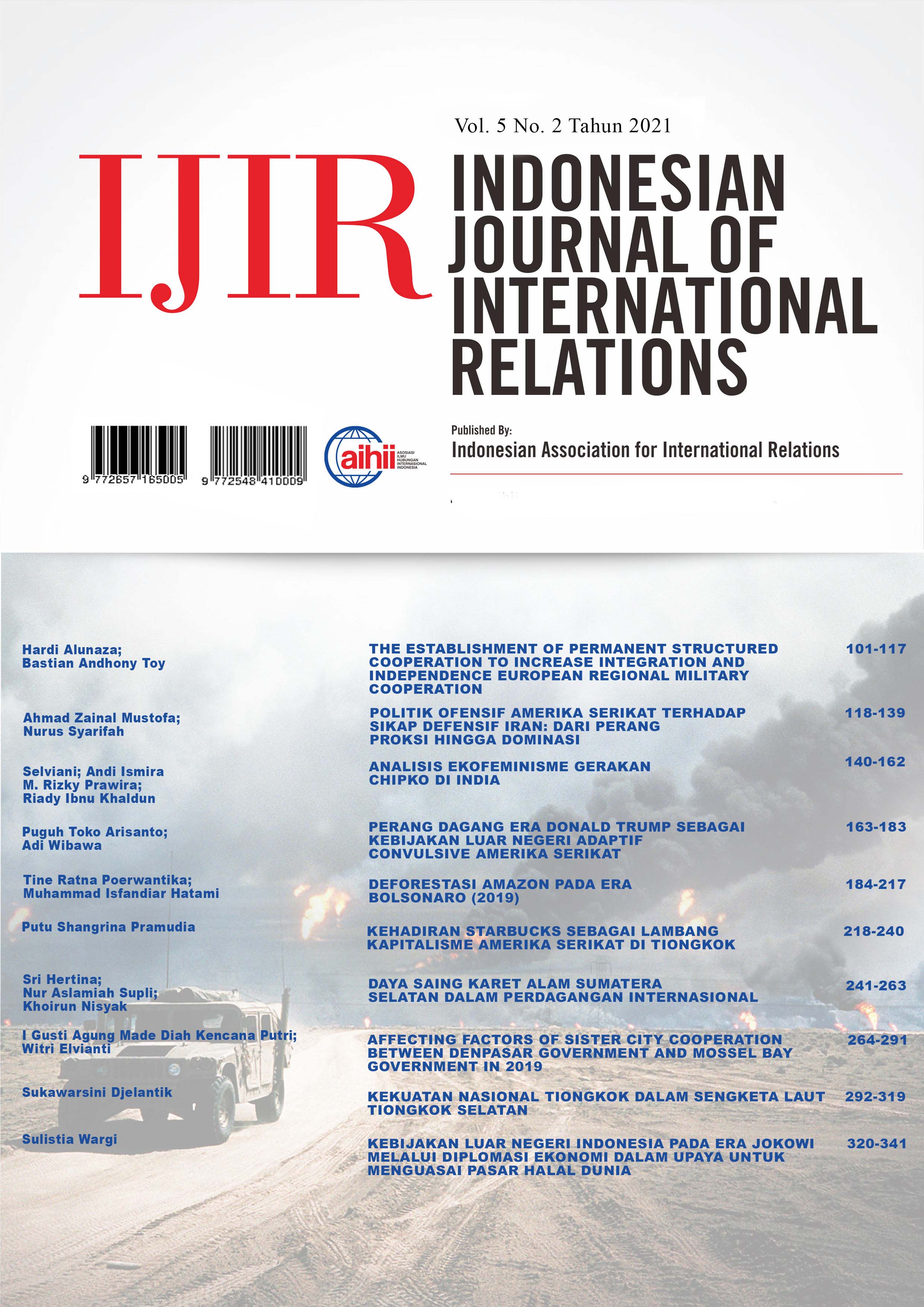 How to Cite
riady. (2021). ANALISIS EKOFEMINISME GERAKAN CHIPKO DI INDIA. Indonesian Journal of International Relations, 5(2), 140-162. https://doi.org/10.32787/ijir.v5i2.217
Copyright (c) 2021 Indonesian Journal of International Relations
This work is licensed under a Creative Commons Attribution-NonCommercial 4.0 International License.