KEBIJAKAN LUAR NEGERI INDONESIA DI ERA JOKOWI MELALUI DIPLOMASI EKONOMI DALAM UPAYA UNTUK MENGUASAI PASAR HALAL DUNIA
Sulistia Wargi

Universitas Pembangunan Nasional Veteran Jakarta
Keywords:
Economyc Diplomacy; Jokowi; Global Halal Market; Graham T. Allison
Abstract
Abstract
The idea of moderate Islam was implemented in economic diplomacy to dominate the Global Halal Market through its participation in the Islamic Cooperation Organization (OIC) forum by Indonesia during Jokowi's reign. By using Graham T. Allison's foreign policy analysis model, this paper will explain the actions taken by the Jokowi government to control the Global Halal Market in terms of its opportunities and challenges. Based on the analysis, the results obtained from the number of Muslims in Indonesia and Indonesia's participation in the OIC become an opportunity and certification of Halal product become a challenge. Jokowi's government has synergized with the bureaucratic apparatus, but this effort still seems stagnant. Because in the end Indonesia is still lagging behind other countries in the Global Halal Market.
Keyword : Economyc Diplomacy; Jokowi; Global Halal Market; Graham T. Allison
Abstrak
Indonesia dalam masa pemerintahan Jokowi mengimplementasikan gagasan islam moderat ke dalam diplomasi ekonomi untuk menguasai Pasar Halal Dunia melalui keikutsertaannya dalam forum Organisasi Kerjasama Islam (OKI). Dengan menggunakan model analisa kebijakan luar negeri milik Graham T. Allison, tulisan ini akan menjelaskan tindakan (action) yang dilakukan pemerintahan Jokowi untuk menguasai Pasar Halal Dunia beserta peluang dan tantangannya. Berdasarkan analisis, didapatkan hasil bahwa tingginya angka pemeluk muslim dan keikutsertaan Indonesia dalam OKI menjadi peluang, dan permasalahan sertifikasi internasional menjadi tantangan. Pemerintahan Jokowi telah bersinergi dengan perangkat birokrasi namun upaya ini masih terkesan stagnan. Sehingga pada akhirnya Indonesia masih tertinggal dari negara lain dalam Pasar Halal Dunia.
Kata kunci : Diplomasi Ekonomi; Jokowi; Pasar Halal Dunia; Graham T. Allison
Downloads
Download data is not yet available.
References
Allison, Graham T.1971. Essence of Decision: Explaining the Cuban Missile Crisis. Boston: Little, Brown and Company. Dalam Hara, A Eby. 2011. Pengantar Analisis Politik Luar Negeri: dari Realisme sampai Konstruktivisme. Bandung: Nuansa.Budiono Kusumohamidjojo. 1987. Hubungan Internasional: Kerangka Studi Analisis. Jakarta: Bina Cipta
Bruce Russet dan Harvey Starr. 1998. World Politics: The Menu for Choice. 2nd ed. New York: W.H. Freeman and Co.
Yani, A.A. 2005. Pengantar Ilmu Hubungan Internasional, Bandung: PT.Remaja Rosdakarya
COMCEC. 2016. Muslim Friendly Tourism: Understanding the Demand and Supply Sides In the OIC Member Countries. Ankara.
Ekmeleddin Ihsanoglu. 2009. Remark on 40th Anniversary of OIC : COMCEC and Economic and Commercial Cooperation Among the OIC Member State.
Ardi Wirdana. (2016). "Indonesia must look to neighbours for halal export inspiration". ASEAN Today. Diakses pada 4 Juni 2020 dalam https://www.aseantoday.com/2016/02/indonesia-sets-eyes-developing-halal-industrial-zone.
Katadata.co.id. "Analisis Data: Industri Halal untuk Semua". Diakses pada 8 Juni dalam https://katadata.co.id/analisisdata/2020/04/16/industri-halal-untuk-semua.
Kemlu.go.id. "Menlu RI Menerima Kunjungan Bilateral Menlu Maroko Dalam Rangka Penguatan Kerjasama Ekonomi". Diakses pada 8 Juni 2020 dalam https://kemlu.go.id/portal/id/read/722/berita/menlu-ri-menerima-kunjungan-bilateral-menlu-maroko-dalam-rangka-penguatan-kerjasama-ekonomi.
Kemlu.go.id."Indonesia Perluas Pasar Industri Halal di Rusia melalui Kazan Summit 2019". Diakses pada 8 Juni 2020 dalam https://kemlu.go.id/portal/id/read/216/berita/indonesia-perluas-pasar-industri-halal-di-rusia-melalui-kazan-summit-2019.
Kominfo,go,id. "5 Tahun Kembangkan Pariwisata Halal, Indonesia Akhirnya Raih Peringkat Pertama Wisata Halal Dunia 2019". Diakses pada 8 Juni 2020 dalam https://kominfo.go.id/content/detail/18069/5-tahun-kembangkan-pariwisata-halal-indonesia-akhirnya-raih-peringkat-pertama-wisata-halal-dunia-2019/0/artikel_gpr.
Mi'raj news Agency. "Indonesian Halal Product Encouraged to Develop Markets in Middle East". Diakses pada Sabtu, 6 Juni 2020 dalam https://en.minanews.net/indonesian-halal-product-encouraged-to-develop-markets-in-middle-east/.
World Islamic Economic Forum Foundation. 2016. "Ten Muslim-Friendly Destinations" Diakses pada 7 Juni 2020 dalam http://foundation.wief.org/news/ten-muslimfriendly-destinations/.
Yolanda, Friska. "Potensi Besar Industri Halal Indonesia". Diakses pada 9 Juni 2020 dalam https://republika.co.id/berita/ekonomi/syariah-ekonomi/pndiyg370/potensi-besar-industri-halal-indonesia.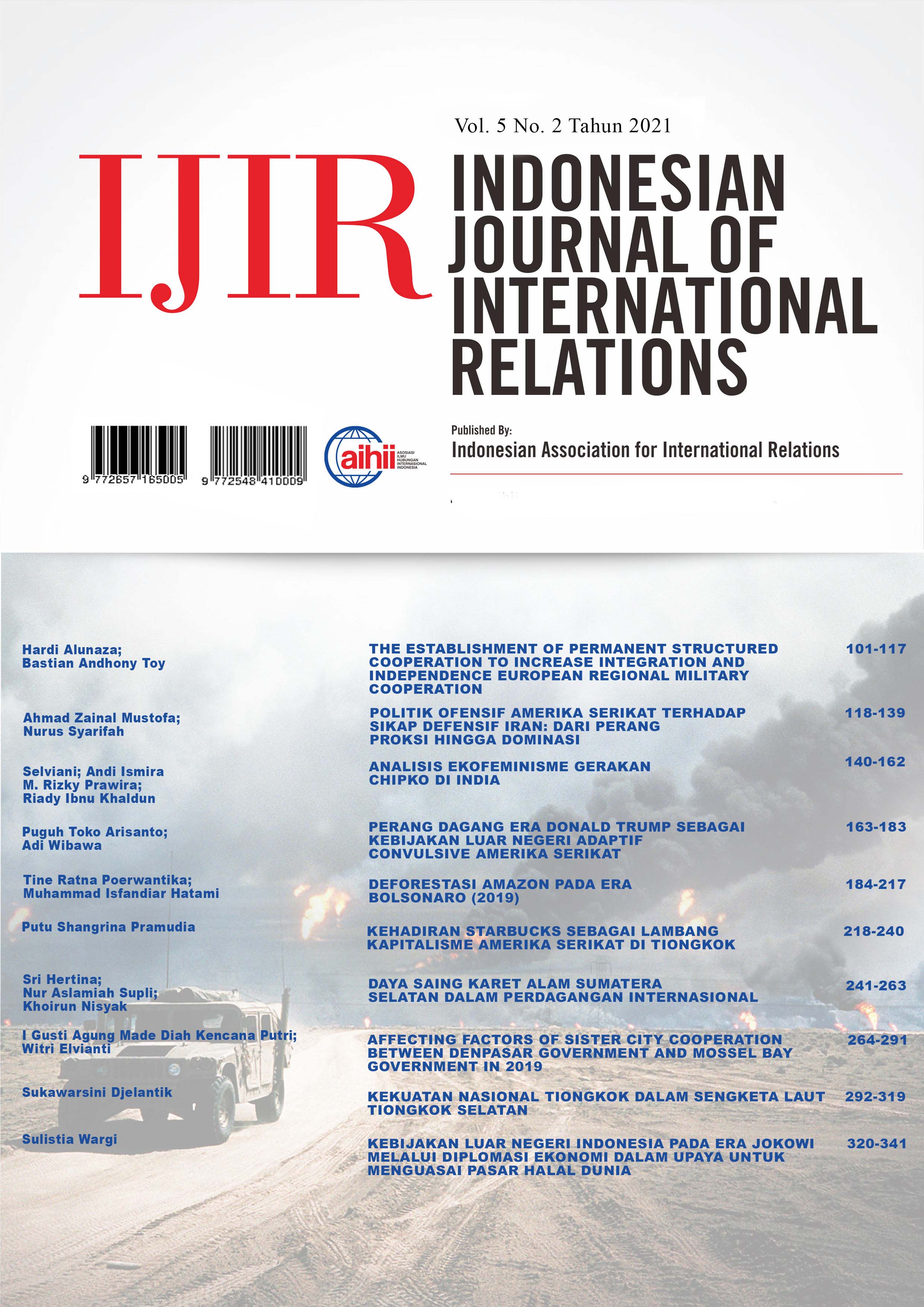 How to Cite
Sulistia Wargi. (2021). KEBIJAKAN LUAR NEGERI INDONESIA DI ERA JOKOWI MELALUI DIPLOMASI EKONOMI DALAM UPAYA UNTUK MENGUASAI PASAR HALAL DUNIA. Indonesian Journal of International Relations, 5(2), 320-341. https://doi.org/10.32787/ijir.v5i2.228