KEKUATAN NASIONAL TIONGKOK DALAM SENGKETA LAUT TIONGKOK SELATAN
Sukawarsini Djelantik

Universitas Katholik Parahyangan
Keywords:
China; South China Sea; diplomacy, information, military, economy
Abstract
The South China Sea (LTS) has a strategic position and rich in natural resources. These waters are claimed by several countries such as China, the Philippines, Vietnam, Malaysia, Brunei Darussalam, and Taiwan. The overlapping claims have not yet reached a resolution, even though tensions have increased and potentially to become an open conflict. The United States (US) and China have economic, political and strategic interests in winning the competition in the South China Sea. This paper answers the question what is China's position in the dispute in the South China Sea? Has China as a great power succeeded in utilizing its national power to control the waters? China's position is analyzed using the concept of national power consisting of Diplomacy, Information, Military and Economics (DIME), which is commonly used to assess state power. China's strength is compared indirectly with the US, which is the main competitor in the region from a diplomatic, military and economic point of view. From the diplomatic aspect, China controls countries in Southeast Asia which are part of the Belt and Road Initiative (BRI) infrastructure project, whose various projects are funded through the Asian Investment Infrastructure Bank (AIIB). To confirm the claim, China has carried out various constructions of artificial islands in the disputed area, which are equipped with military facilities. From an economic perspective, China's rapid growth in recent decades has made it one of the most respected world powers. These facts indicated that China is a great power that has managed to match the power and influence of the US in the region. In the case of the LTS dispute, it is likely that China will win the competition, influence and support from the disputing countries.
China; South China Sea; diplomacy, information, military, economy
Downloads
Download data is not yet available.
References
Broomfield, Emma V. (2003) "Perceptions of Danger: The China threat theory," Journal of Contemporary China, vol. 12, no. 35, DOI: 10.1080/1067056022000054605.

Cheeppensook, Kasira, ASEAN in the South China Sea Conflict, 2020, https://www.csds-chula.org/publications/2020/8/13/journal-article-asean-in-the-south-china-sea-conflict-20122018-a-lesson-in-conflict-transformation-from-normative-power-europe.

Devary, Scott, 2015, Diplomacy and the South China Sea,
https://thediplomat.com/2015/08/diplomacy-and-the-south-china-sea.

Farlin, Jeff, 2014, Instruments of National Power: How America Earned Independence, United States Army War College, https://publications.armywarcollege.edu/pubs/87.pdf.

Gertz, Bill, (2000) The China Threat: How the People's Republic Targets America, Washington, D.C.: Regnery Publishing Inc.

Jacques, Martin, (2009) When China Rules the World, https://www.penguin.co.uk/books/106/106053/when-china-rules-the-world/9780140276046.html, London: Penguin Books.

McFadyen, James L. 2004, The Instrument of National Power in Respect to the United States Counterdrug Efforts in Columbia, https://www.hsdl.org/?view&did=704561.

Kennedy, Paul, (1989) the Rise and Fall of the Great Powers, New York: Vintage Books.

Roper, Carl, (2014) Trade Secret Theft, Industrial Espionage and the China Threat, Florida: CRC Press, Taylor & Francis Group.

Simon, Sheldon W, 2012, Conflict and Diplomacy in the South China Sea, 2012, Asian Survey Vol. 52, No. 6, November/Desember, https://www.semanticscholar.org/paper/Conflict-and-Diplomacy-in-the-South-China-Sea-Simon/2fbf7c5fab05c03113eff2d930f1892efd732805
---------, The-instruments of national power, 2017, /https://www.thelightningpress.com/the-instruments-of-national-power/.

Qiushi Journal: News of the Communist Party of China. http://www.cscc.it/upload/doc/full_text_of_hu_jintaos_report_at_17th_party_congress___qiushi_journal.pdf,

Xiaoyu Zhao, "Why Obama's Rebalance towards Asia-Pacific Was Unsuccessful?", Politics, Public Administration and International Relations Journal, https://journals.sagepub.com/doi/abs/10.1177/0020881718791040?journalCode=isqa.
Wibisono, Adhe Nuansa, 2019, China's "Belt and Road Initiative" in Sri Lanka : Debt Diplomacy in Hambantota Port Investmen, Mandala, Jurnal Ilmu Hubungan Internasional, file:///C:/Users/FISIP_~1/AppData/Local/Temp/1482-3570-1-SM.pdf.

Yağci, Mustafa, 2018, Rethinking Soft Power in Light of China's Belt and Road Initiative, https://dergipark.org.tr/en/pub/uidergisi/issue/42848/518043.
Media Massa

Jitu: https://m.jitunews.com/read/34311/mengenal-9-garis-putus-putus-tiongkok-dan-klaim-laut-cina-selatan?halaman=2

Kompas: https://www.kompas.com/global/read/2021/01/06/125721270/xi-jinping-perintahkan-tentara-china-agar-siap-berperang-setiap-saat.

Antara News, 10 Oktober 2020.

Lain-lain
The Economist, "Special Report: China and America" 18 Mei 2019.

Laporan Tahunan Departemen Pertahanan AS, 2005, www.dod.mil/news/Jul2005/d20050719china.pdf; the CIA World Factbook, www.cia.gov/cia/publications/factbook/rankorder/20067rank.html

Military Balance 2006; dan "Modernizing China's Military: Opportunities and Constraints", RAND www.rand.org/news/press.05/05.19.html.

Kertas Putih Pertahanan, http://www.andrewerickson.com/wp-content/uploads/2019/07/China-Defense-White-Paper_2010_English-Chinese_Annotated.pdf.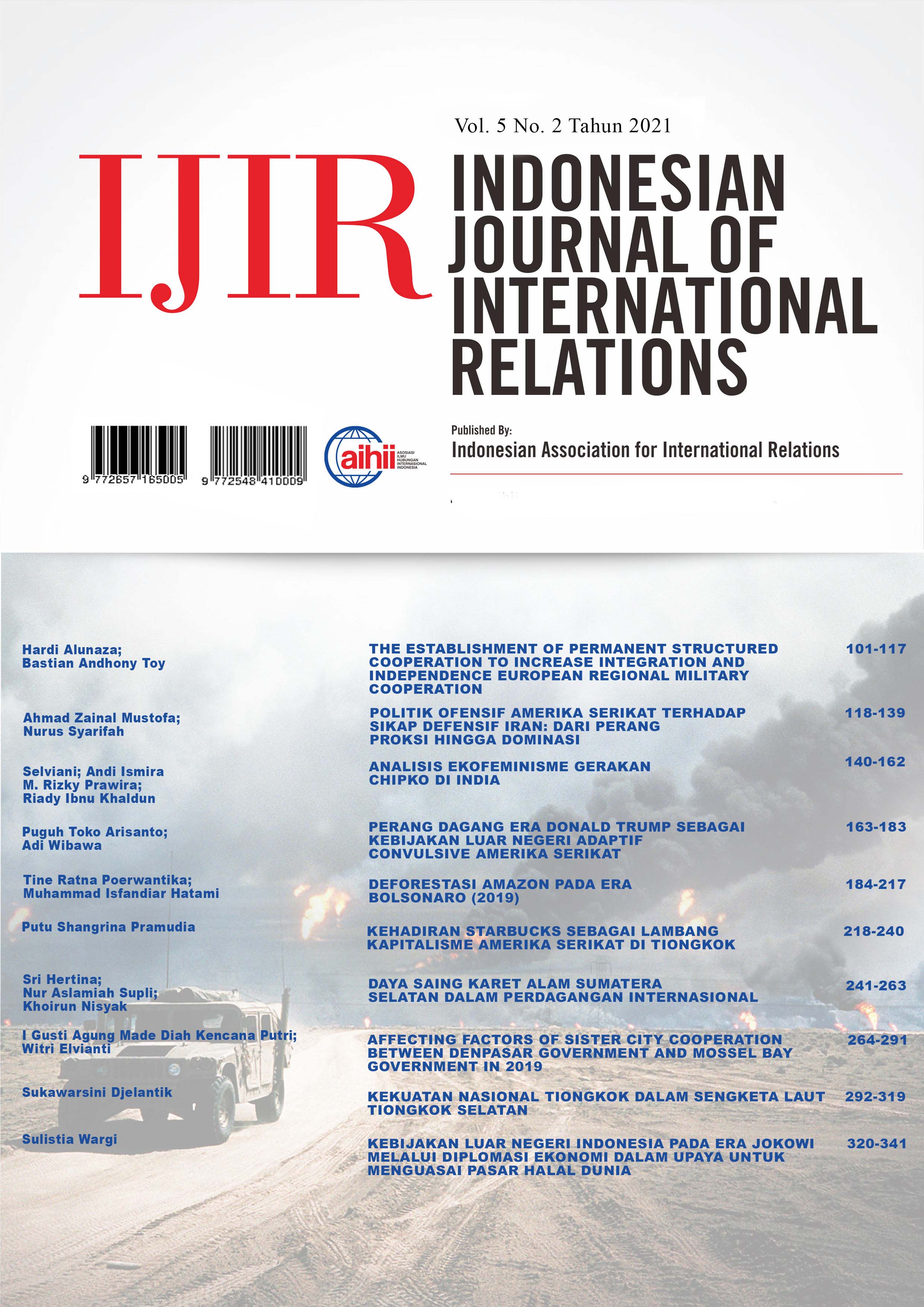 How to Cite
Djelantik, S. (2021). KEKUATAN NASIONAL TIONGKOK DALAM SENGKETA LAUT TIONGKOK SELATAN. Indonesian Journal of International Relations, 5(2), 292-319. https://doi.org/10.32787/ijir.v5i2.248
Copyright (c) 2021 Indonesian Journal of International Relations
This work is licensed under a Creative Commons Attribution-NonCommercial 4.0 International License.