KETERGANTUNGAN LAOS PADA TIONGKOK DALAM EKONOMI DAN PEMBANGUNAN SEBAGAI PENGHAMBAT TERLAKSANANYA PROGRAM REDUCE INEQUALITY
Yeni Herliana Yoshida

Universitas Padjadjaran
Keywords:
BRI, China, Ketergantungan, Laos, Reduce Inequality
Abstract
Tulisan ini bertujuan untuk menganalisis ketergantungan Laos terhadap China dalam ekonomi dan pembangunan, yang menjadi hambatan bagi terlaksananya reduce inequality sebagai salah satu program Suistainable Development Goals (SDGs). Metode penelitian yang digunakan adalah metode kualitatif, serta menggunakan pendekatan teori ketergantungan dan cobweb model sebagai alat analisis. Hasil penelitian menunjukkan bahwa ketergantungan Laos terhadap China menyebabkan utang luar negeri Laos meningkat, tetapi kesenjangan di Laos masih cukup tinggi. Proyek Belt Road Initiative (BRI) sangat menguntungkan bagi Laos, karena bisa membantu Laos dalam masalah geografisnya. Namun semakin lama Laos bergantung kepada China, semakin sulit pula bagi Laos untuk bisa berkontribusi dan mewujudkan program berkelajutan, seperti program reduce inequality.
Downloads
Download data is not yet available.
References
asean today. (2020). Kesepakatan kekuatan baru China membuat Laos mempertaruhkan masa depannya untuk keuntungan cepat. Asean Today. https://www.aseantoday.com/2020/09/new-chinese-power-deal-sees-laos-risk-its-future-for-quick-gains/?lang=id
asean today. (2021). Pergeseran kepemimpinan Laos akan melihat perkembangan yang genting, kebijakan luar negeri terus berlanjut | ASEAN Hari ini. Asean Today. https://www.aseantoday.com/2021/01/lao-leadership-shuffle-will-see-precarious-development-foreign-policy-continue/?lang=id
Bachtiar, S. & J. W. (2020). Lao People's Democratic Republic's Dependency on China's Infrastructure Assistance. International Journal of East Asian Studies, 9(1), 19–31. https://doi.org/10.22452/ijeas.vol9no1.2
Bappenas. (2015). Sekilas SDG's. http://sdgs.bappenas.go.id/sekilas-sdgs/
BBC. (2010). Tergantung pada produk luar - BBC News Indonesia. BBC. https://www.bbc.com/indonesia/laporan_khusus/2010/01/100107_laos4
Budiman, A. (2000). Teori Pembangunan Dunia Ketiga (Cetakan Ke). PT. Gramedia Pustaka Utama.
data bank. (2020). GDP (current US$) - Lao PDR | Data. Data Bank. https://data.worldbank.org/indicator/NY.GDP.MKTP.CD?locations=LA&most_recent_value_desc=true
Farny, E. (2003). Dependency Theory: A Useful Tool for Analyzing Global Inequalities Today? Studies in Comparative International Development, 38(1), 32–38. https://www.e-ir.info/2016/11/23/dependency-theory-a-useful-tool-for-analyzing-global-inequalities-today/
Global Goals for Sustainable Developments. (2020). Goal 10: Reduced Inequalities | The Global Goals. Global Goals. https://www.globalgoals.org/10-reduced-inequalities
Kazuhiro, F. (2010). The Increasing Presence of China in Laos Today : A Report on Fixed Point Observation of Local Newspapers from March 2007 to February 2009. Ritsumeikan Journal of Asia Pacific Studies, 27(February), 65–83.
Menon, J. (2018). Raising Inequality In Laos. The Asia Dialogue. https://theasiadialogue.com/2018/09/12/rising-inequality-in-laos/
Moleong, L. J. (2009). Metode Penelitian Kualitatif. Remaja Rosdakarya.
Philip, B. (2012). Laos, south-east Asia's new emerging economy. The Guardian.
Prihtiyani, E. (2011). Laos Mengatasi Ketertinggalan Ekonomi. Kompas. https://ekonomi.kompas.com/read/2011/03/28/05182886/Laos.Mengatasi.Ketertinggalan.Ekonomi?page=all
Putri, V. K. M. (2021). Laos, Satu-satunya Negara Asia Tenggara yang Tidak Memiliki Perairan Halaman all - Kompas.com. https://www.kompas.com/skola/read/2021/02/05/155155869/laos-satu-satunya-negara-asia-tenggara-yang-tidak-memiliki-perairan?page=all
Santos, T. Dos. (2010). The Structure of Dependence. American Economic Association, 60(2), 231–236. https://www.jstor.org/stable/1815811
SIIS. (2016). Assessment and Prospect of China-Laos Development Cooperation. Shanghai Institutes For International Studies, September, 47. http://www.siis.org.cn/UploadFiles/file/20170417/20170316_中国与老挝发展合作_英文版.pdf
Sims, K. (2021). On China's Doorstep, Laos Plays a Careful Game of Balancing. The Diplomat. https://thediplomat.com/2021/07/on-chinas-doorstep-laos-plays-a-careful-game-of-balancing/
Sorensen, R. J. (2009). Pengantar Studi Hubungan Internasional (Terjemahan). Pustaka Pelajar.
unoosa. (2021). Sustainable Development Goal 10: Reduced Inequalities. United Nations Office for Outer Space Affairs. https://www.unoosa.org/oosa/en/ourwork/space4sdgs/sdg10.html
Xinhua. (2019). 2 tunnels Dug through in China-Laos Railway Construction. Xinhua.Net. http://www.xinhuanet.com/english/2019-04/15/c_137979085.htm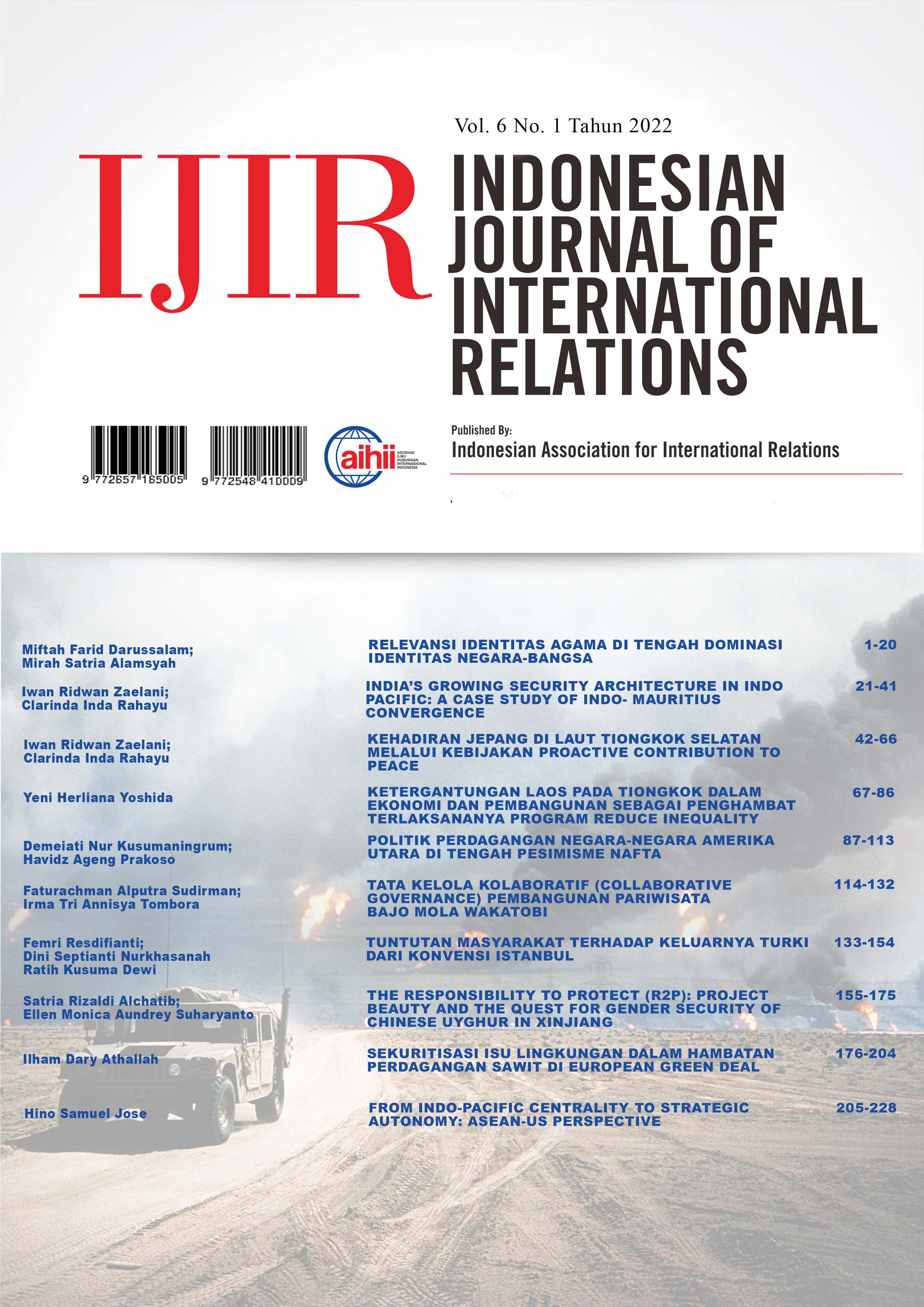 How to Cite
Yoshida, Y. H. (2022). KETERGANTUNGAN LAOS PADA TIONGKOK DALAM EKONOMI DAN PEMBANGUNAN SEBAGAI PENGHAMBAT TERLAKSANANYA PROGRAM REDUCE INEQUALITY. Indonesian Journal of International Relations, 6(1), 67-86. https://doi.org/10.32787/ijir.v6i1.298
Copyright (c) 2022 Indonesian Journal of International Relations
This work is licensed under a Creative Commons Attribution-NonCommercial 4.0 International License.