SOUTH KOREA'S FOREIGN POLICY: UNVEILING FACTORS IN HALAL INDUSTRY DEVELOPMENT
Neneng Konety

universitas padjadjaran

Nurfarah Nidatya

Universitas Pembangunan Nasional "Veteran" Jakarta

Akim

universitas padjadjaran
Keywords:
halal, decision making, foreign policy, South Korea
Abstract
This study aims to analyze the factors that underlie South Korea's foreign policy regarding halal industry development. The decision-making theory proposed by Richard C. Snyder, Bruck, and Burton Sapin is the theoretical framework employed, while employing a qualitative approach, literary study and interview techniques. The research findings reveal that the formulation of South Korea's foreign policy in the halal industry development can be explained through various variables. In conclusion, South Korea's halal industry policy draws from decision-making theory, considering internal factors like the Muslim population, economic goals, and innovation. Social structures and external influences, such as global demand and Muslim tourism, play significant roles.
Downloads
Download data is not yet available.
References
REFERENCES
Akim, A., Konety, N., Purnama, C., & Korina, L. C. (2019). The Shifting of Halal Certification System in Indonesia: From Society-Centric To State-Centric. MIMBAR : Jurnal Sosial Dan Pembangunan, 35(1), 115–126. https://doi.org/10.29313/mimbar.v35i1.4223
Annur, C. M. (2023, Maret 28). Ini Jumlah Populasi Muslim di Kawasan ASEAN, Indonesia Terbanyak. Retrieved from Databoks: https://databoks.katadata.co.id/datapublish/2023/03/28/ini-jumlah-populasi-muslim-di-kawasan-asean-indonesia-terbanyak
Atiko Putri, N. I., Karseno, K., Fuadah, D. K., Firdausi, H. M., Ulhusna, S., & Prabowo, M. A. B. (2021). The Potential of Halal Food Business in Asia and Europe with Majority of Non-Muslim Communities. Al-Kharaj : Jurnal Ekonomi, Keuangan & Bisnis Syariah, 4(1), 1–15. https://doi.org/10.47467/alkharaj.v4i1.396
Gong, S. E. (2023, May 24). Muslims in South Korea want to build a mosque. Neighbors protest and send pig heads. Retrieved from NPR: https://www.npr.org/2023/05/24/1176132837/south-korea-mosque-muslim-students-tensions
Goni, O. (2022). Investigation of the factors that influence Non-Muslims on the purchasing intention of Halal food in Korea. African Journal of Business Management, 16(2), 24–31. https://doi.org/10.5897/ajbm2021.9240
Grund, M. (2016). Accelerating Development (Issue December).
Han, H., Al-Ansi, A., Olya, H. G. T., & Kim, W. (2019). Exploring halal-friendly destination attributes in South Korea: Perceptions and behaviors of Muslim travelers toward a non-Muslim destination. Tourism Management, 71, 151–164. https://doi.org/10.1016/j.tourman.2018.10.010
Inda, S. (2021, November 03). Serius Kembangkan Wisata Ramah Muslim, Ini Strategi Korea. Retrieved from Sindo: https://ekbis.sindonews.com/read/588746/34/serius-kembangkan-wisata-ramah-muslim-ini-strategi-korea-1635955904
Indah. (2023, Juli 10). Bertemu Otoritas Korea Selatan, Kepala BPJPH Paparkan Syarat Produk Halal Masuk Indonesia . Retrieved from Kemenag: https://kemenag.go.id/internasional/bertemu-otoritas-korea-selatan-kepala-bpjph-paparkan-syarat-produk-halal-masuk-indonesia-32Xl3
Jo, S. (2022, February 8). Development of Korea Halal Industry. (N. Nidatya, Interviewer)
Jung, K. E. (2019, September 15). Over 1 million Muslim tourists to visit S. Korea this year. Retrieved from Yonhap News Agency: https://en.yna.co.kr/view/AEN20190915000700320#:~:text=A%20total%20of%20511%2C017%20Muslim,Tourism%20Organization%20(KTO)%20said.&text=The%20number%20of%20Muslims%20visiting,2018%2C%20according%20to%20government%20data.
Kaur, S. (2022, June 21 ). South Korea's SPC Group to invest RM130mil in halal bakery hub in Johor. Retrieved from New Straits Time: https://www.nst.com.my/business/2022/06/806778/south-koreas-spc-group-invest-rm130mil-halal-bakery-hub-johor
Kim, R. (2021). Religion, business, and global visions: An exploration of South Korea's discourse on halal. International Journal of Korean History, 26(2), 117–149. https://doi.org/10.22372/IJKH.2021.26.2.117
KTO. (2022). Korean Tourism Organization. Retrieved from Muslim Friendly: https://www.visitkorea.or.id/plan/ramah-muslim
Kusumaningrum, D. N., Fairuz, A. M., Putri, E. P., & Amalia, E. P. (2017). South Korea Halal Tourism Trend (Trend Pariwisata Halal Korea Selatan). Seminar Nasional Dan Gelar Produk, 855–865.
Kusumawardhana, I. (2021). Pengantar Analisis Kebijakan Luar Negeri.
Mathew, V. N., Abdullah, A. M. R. binti A., & Ismail, S. N. binti M. (2014). Acceptance on Halal Food among Non-Muslim Consumers. Procedia - Social and Behavioral Sciences, 121, 262–271. https://doi.org/10.1016/j.sbspro.2014.01.1127
May, F., Ayu, A., & Aulia, N. (2020). Wisata Halal Trend Baru Industri Pariwisata Korea Selatan. JURNAL PENELITIAN IAIN KUDUS, 14. https://doi.org/10.21043/jp.v14i1
Nayeem, A. R., Hoque, O., & Zalil, M. A. (2020). Halal Food Concept and Impact on Tourism Industry in Japan and South Korea. East African Scholars J Econ Bus Manag, 3(6), 515–521. https://doi.org/10.36349/EASJEBM.2020.v03i06.070
Nur Yasar, H. (2021). Stereotyping Halal Food and Eating Halal Food in a South Korean Context. European Journal of Korean Studies, 21(1), 259–290.
Ovut, E. (2022, Jan 27). Korean Halal Industry. (Nurfarah, Interviewer)
Park, M., & Jamaludin, M. A. (2018). A Framework of Halal Industry Support System in non-Muslim Country: A Focus on South Korea.
Ray, R. K. (2022). HALAL IN KOREA: THE SOCIAL CONSTRUCTIONS OF A CONTESTED CATEGORY IN A GLOBALIZED WORLD A. In Faculty of the Graduate School of Arts and Sciences of Georgetown University in (Issue 8.5.2017).
Seonjou, K. (2020). Korea's New Southern Policy: Diversifying Economic and Strategic Portfolios. Asia Pacific Buletin, 515(515). https://www.eastwestcenter.org/system/tdf/private/apb515.pdf?file=1&type=node&id=37916
Snyder, R. C., Bruck, H. W., Sapin, B., & Valerie, H. (2002). Foreign Policy Decision-Making (Revisited). PALGRAVE MACMILLAN.
Syaza Nabilah Binti Fauzihana, S., & Ayob, N. (2020). Perceptions of Muslim Travellers Toward Halal Lifestyle in South Korea. Trends in Undergraduate Research, 3(1), 9–16. https://doi.org/10.33736/tur.1552.2020
Wefer, C. (2021). BUILDING ON THE MIDDLE : DIVERSIFYING SOUTH KOREA ' S FOREIGN POLICY NARRATIVE AND ECONOMIC TIES. 6, 1–8.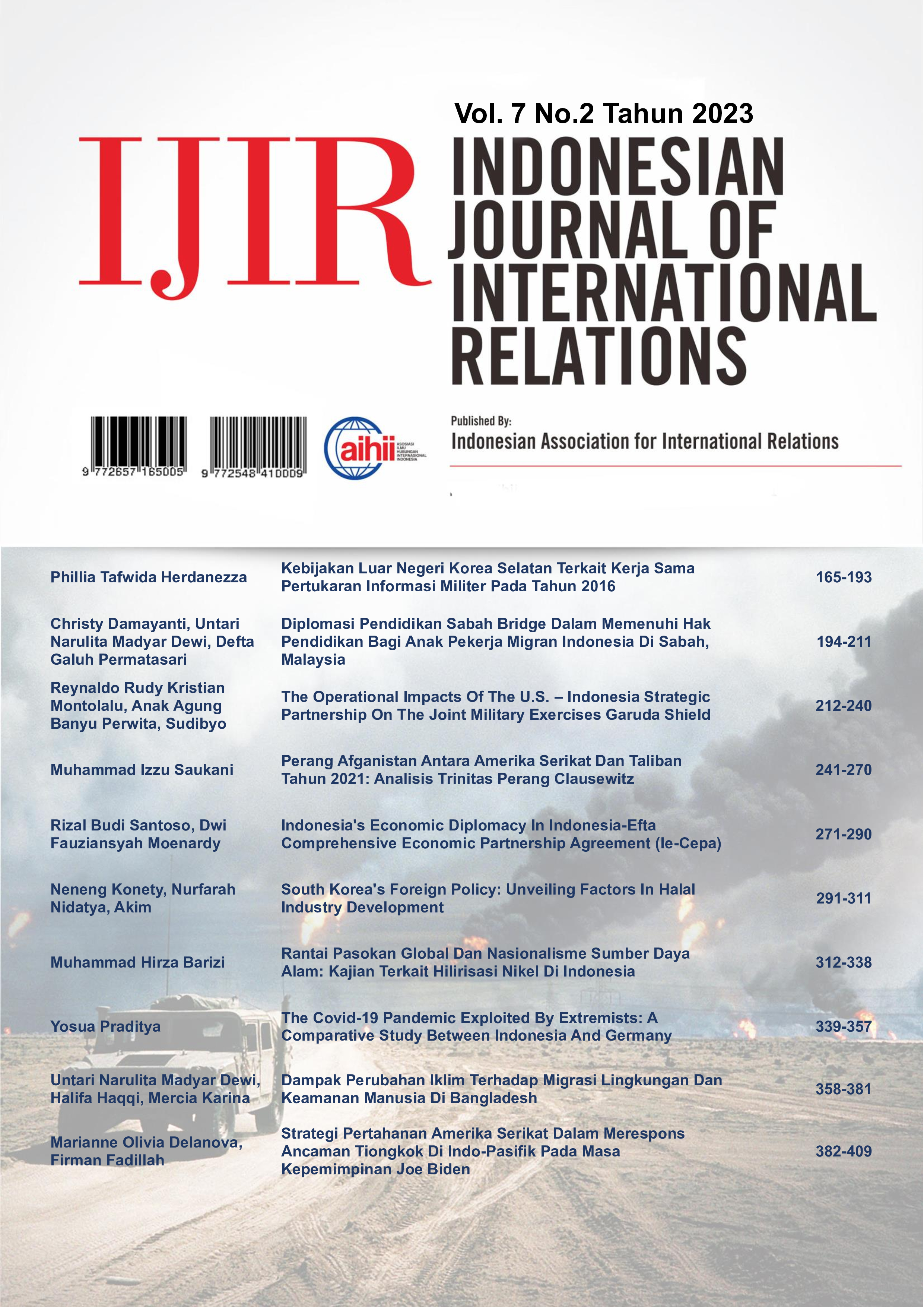 How to Cite
Konety, N., Nidatya, N., & Akim. (2023). SOUTH KOREA'S FOREIGN POLICY: UNVEILING FACTORS IN HALAL INDUSTRY DEVELOPMENT. Indonesian Journal of International Relations, 7(2), 291-311. https://doi.org/10.32787/ijir.v7i2.474
Copyright (c) 2023 Indonesian Journal of International Relations
This work is licensed under a Creative Commons Attribution-NonCommercial 4.0 International License.